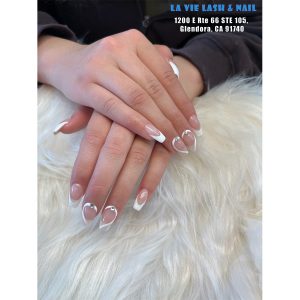 Located conveniently in Glendora, CA 91740, La Vie Lash & Nails is the ideal nail salon for you to immerse yourself in a luxury environment. A lovely, comfortable, clean, and friendly space would help you relax after a long working day.
Our nail salon takes pride in providing our valued customers with all good services and top-high quality products as well as materials. We offer a wide variety of top-quality services to fit your needs from Manicure, Pedicure, Waxing, and Facial to Lash Extensions. Our experienced staff will help you determine the best services for your needs and deliver the best quality you expect from a professional nail salon.
Especially, understanding that customers always appreciate cleanliness and safety when coming to a nail salon, we ensure beautiful and healthy nails for each client. Our implements, equipment, and electrical instruments are always thoroughly cleaned and subjected to an approved sanitizing and disinfecting process before being reused. Buffers and files are used only once, then discarded. All pedicure procedures are performed with liner protection.
Leave all stresses behind and let us pamper you!